Description
Irelands Mansion
The Square, Shrewsbury, Shropshire SY1 1SQ
Grade: II* Date Listed: 10 January 1953
House, now divided into shops and offices. c1575. For John Ireland, wool merchant. Timber-framed with plain tiled roof. 3 storeys and attics, 4 bays. 3 ground-floor shop fronts inserted early C20, and shallow arched doorways with moulded architraves and enriched spandrels leading to internal passageways between them. Corbelled out over the ground floor, alternately squared and semi-octagonal canted bays project, with slightly projecting oriel windows in each square bay, and sash windows in the canted bays.
Oriel windows in each recess between the projecting bays. Each tier of bays overhangs slightly, and the entire second storey is jettied out. The upper storeys are framed with close studding, with twisted shafts on vertical members, and some ogival tension bracing.
Over each bay, a stilted gable, with 2-light casement window, carved bressumer, barge-boards with finials and king-post framing with herringbone bracing. Gable and axial stacks.
INTERIOR: no original features survive
The most ambitious surviving 16th Century timber building in Shrewsbury was built by Robert Ireland between 1580 – 1590, partly as property speculation. It was not one house but three, with a large central block and two smaller flanking tenements. It has less extravagant ornamentation than other houses of this era but relies on symmetry for its grand effect. It is a three storey building with bays and gables projecting outwards which adds to the buildings charm and piecemeal construction. It was constructed as a speculative attempt to rent out each component part for shops on the ground floor, offices above and accommodation in the garrets.
By 1700 the building was known to locals as 'Ireland's Folly'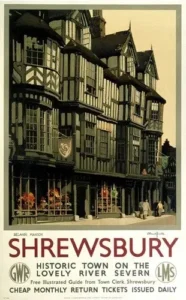 Robert Ireland (c.1532-99), of Ireland's Mansion, Shrewsbury, Salop
Family and Education
c.1532, 2nd s. of Thomas Ireland (d.1554) of Albrighton by Jane, da. of William Ottley of Pitchford. educ. I. Temple 1555; BCL Oxf. 29 July 1560. m. Elizabeth, da. of Thomas Scriven.
Offices Held
Common councilman, Shrewsbury 1565, bailiff 1566, 1569, 1592.
Biography
The identification of this Member as Robert Ireland, son of Thomas Ireland of Adbrighton, rather than his uncle, Robert Ireland, son of David Ireland of Shrewsbury, rests on a petition, dated 1570, from Robert Ireland 'the younger' to the council in the marches, complaining of non-payment of wages due to him from the town. A writ from the council directed the bailiffs to pay £10 for his expenses in attending the Parliament in the fifth year and in 1581 'Mr. Robert Ireland, Esq.' received £15, as full discharge of, the money due to him as burgess of Parliament 'in the 1st, 5th and 13th years of Her Majesty's reign'.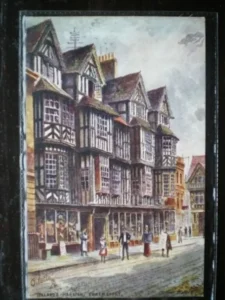 Ireland played a prominent part in the life of the town and is frequently mentioned in its records. In 1564 the bishop of Coventry and Lichfield reported him 'meet to bear office … because many times corrupt men are chosen to be bailiffs'. Apparently a wealthy man, he built the magnificent half-timbered house in the High Street that bears his name, and in 1588 contributed £25 for the defence of the kingdom. As well as property in Shrewsbury, he had an interest in lands in other parts of the county. But it was Robert Ireland the elder, and not this Member, who was displaced from the 12 for non-residence in 1582.
Although a freeman of the Shrewsbury Mercers' Company and several times a warden, Ireland allowed the drapers to purchase his support for the bill which, in 1566, forbade any but the drapers to trade in Welsh cloth. This bill passed the Commons between 26 Nov. and 4 Dec. 1566, but on 16 Nov. Ireland had received leave of absence 'for his special affairs'. In 1570 the drapers voted to keep their promise to him, and made his brother, instead of himself, and three other leading mercers, free of the Drapers' Company. In 1571 Ireland again had licence to depart, on 16 May, nine days after the repeal of the 1566 Act had passed its third reading in the Lords, though it did not receive the royal assent in this Parliament.
Robert Ireland died 6 Oct. 1599. The town chronicle supplies his epitaph.
He was a stout protestant, and a furtherer of the poor, a good housekeeper, and one that kept great countenance in his proceedings in this town. He died godly, in good remembrance unto the last end, and was solemnly buried in St. Chad's church, Shrewsbury, for whom were many weeping tears, and great moan.
An inquisition post mortem was held in 1600.